Ninja Assassin Movie Review
---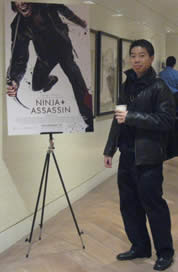 AsiaFinest was invited to a special advance screening of the movie, Ninja Assassin, starring international superstar Rain. The screening took place on November 12th, 2009 at the Warner Bros Screening Room. Read below for both Ben and Norina's review of the movie Ninja Assassin.

Norina's Ninja Assassin Movie Review

Bloody. Gritty. Violent. With a combination of swords and intense martial arts, Ninja Assassin is not your average Jackie Chan action flick.

The film stars Korean pop star Rain as the lead character, Raizo – one of the deadliest killing machines in the world. Kidnapped from the streets as a child by the Ozunu Clan, he was transformed into a trained assassin. However, after witnessing the execution of a love interest by the clan, he breaks free from his so-called family – only to reemerge later to seek revenge. Although Rain's dialogue in the film was limited, his actions spoke more than words can ever say.

Aside from making dance moves seem effortless in sold-out concerts, Rain seemed to have no problem transitioning his skills to a hybrid of martial arts styles. His ability to use a multitude of weapons was also quite impressive. It was as if he was trained since an early age to fight and kill without hesitation – when in reality he just trained for six hours a day for six months. He also had to follow a strict diet regimen to achieve this god-like figure. Attaining such a body must be rewarding on so many levels, but it must be the cherry on top when female fans in the audience shamelessly say, "Wow," at the sight of his muscles on the big screen – true story.

As for Rain's portrayal of Raizo, he did successfully express a lot of emotion in a very subtle way. Unlike the usual sweet characters that all the girls fall in love with in his Korean dramas and movies, Raizo is the complete opposite with all the violence that he lives and breathes in. Believe it or not, it is actually quite refreshing to see Rain in such a dark light.

With bloody executions that may be too gruesome for some, do note that this film also has underlying themes of loyalty, honor and identity. So for those that can appreciate the martial arts action to be as real and cinematic as it gets – this 21st century ninja story is definitely worth watching.

Ninja Assassin opens nationwide on November 25th, 2009.

Written by Norina Li of AsiaFinest.com



Ben's Ninja Assassin Movie Review

"It's a kick ass movie" said Rain in our AsiaFinest exclusive interview. He was right. This modern day ninja movie was action packed. This movie is not a cheesy martial arts film. Ninja Assassin is bloody, brutal, and gory. The action is fast paced and fresh. The fights and weapons used in Ninja Assassin are really unique. Rain stars in this movie and does a great job with his character Raizo. I would go more into the story of Raizo, but Norina did a great job covering it in the review above.

Ninja Assassin features an all star cast for the production team. Directed by James McTeigue and produced by The Wachowski Brothers, they did not disappoint with Ninja Assassin. They brought the action and "bullet time effect" from V for Vendetta and The Matrix turned it into an original 21st century ninja movie along with "ninja star time effect". Ninja stars flew like bullets. It was great to see a whole array of weapons rarely seen used in martial arts film.

While I think the level of brutality and gore is sometimes over the top and the story feels predictable, Ninja Assassin does a great job in providing a modern version of martial art film. It's easily one of the best if not best action film of 2009. Ninja Assassin is a must see movie for martial arts fan and for everyone who loves action movies. I rate Ninja Assassin with 3 out of four (ninja) stars. Check it out!

Written by Ben Li of AsiaFinest.com

Talk about this movie in our friendly discussion forum! Be sure to check out our other reviews. Write an Asian related article, and get it read by thousands of people daily. Get credit for it. Click here for more details on submitting an article to us.