US Theatrical Premiere Of Naruto Shippuden: Bonds Review
---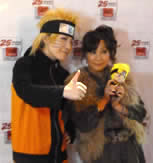 October 15th, 2011. The US theatrical premiere of NARUTO SHIPPUDEN THE MOVIE: BONDS took place on Saturday, October 15th at 7:00pm at the New York School of Visual Arts Theatre. The Naruto movie premiere was a free event for the lucky comic con attendees who were able to secure free tickets at VIZ Media's booth at the 2011 New York Comic Con that weekend. AsiaFinest was on hand to cover this special event. Be sure to check out our pictures and videos from the event.

We were busy covering the 2011 New York Comic Con the same weekend, but like all the premiere attendees, we were huge Naruto fans ourselves and couldn't miss out on a rare event like this. To make this movie premiere even more special, Japanese voice actress Junko Takeuchi, who provides the original voice for Naruto, was going to be there as part of a special pre-show red carpet event. Any true Naruto fan knows this was a can't miss opportunity to meet the person behind the voice of their favorite character. "Junko Takeuchi is one of the most respected voice actors in the Japanese anime industry and we're honored to welcome her as a very special guest of honor for this theatrical premiere event," says Candice Uyloan, Director, Marketing of Viz Media.

If Junko Takeuchi was not an incentive enough for Naruto fans to attend the fun event, the first 200 attendees in line for the premiere each received a NARUTO plush toy! Premiere attendees also received a special VIZ Media Heroes Of Anime gift bag with an amazing assortment of goodies, including the NARUTO SHIPPUDEN™: Ultimate Ninja Impact™ video game for the PSP, NARUTO SHIPPUDEN Collectable Card Game packs, NARUTO keychains, and other assorted collectibles.



The anime fans lined up early outside of the SVA Theatre. Most of the attendees had come from the NY Comic Con and were happily talking and showing off what they got with each other while waiting for Junko Takeuchi to arrive. Various Naruto plush dolls was given out to the first 200 fans. Junko Takeuchi arrived right on time and all the fans waiting cheered loudly. You could see the smile on Junko Takeuchi's face as she acknowledged the fans and quickly went inside the theatre. She did a quick photo op with a Naruto cosplayer and were escorted to a private area to do a meet and greet with VIP guests.

AsiaFinest was lucky enough to be first to go meet Junko Takeuchi privately. It was a pretty exciting and incredible experience. She had a translator with her while we spoke with her. We told her that we were huge Naruto fans, and was glad to finally meet the voice behind Naruto. Junko Takeuchi has to be one of the most adorable and nicest voice actors there is. She was smiling the whole time and genuinely looked very happy to be here. VIPs were then given additional exclusive Naruto related merchandises.


During this time, fans were allowed into the theatre and were being seated. Each attendee was offered a free drink with individual packaged caramel popcorns. Before the movie started, Junko Takeuchi came out and greeted the audience. Fans adored her as she held a cute Naruto plush doll while telling the fans about her trip to New York and talked about the Naruto movie. Be sure to check out our video of Junko Takeuchi interacting with the audience!

In NARUTO SHIPPUDEN THE MOVIE: BONDS, a group of mysterious flying ninja have arrived from overseas to launch a sudden attack against the Hidden Leaf Village, leaving behind a wake of destruction. The group is revealed to be the "Sky Ninja" from the Land of Sky, a nation thought to have been destroyed by the Hidden Leaf Village long ago. To save their village, Naruto and his friends set out to stop this new threat. During the course of the mission, Naruto crosses paths with Sasuke, his friend who has parted ways from the Leaf Village.

Everyone in the audience watched with delight and tons of enthusiasm as the movie was shown. The movie is definitely a must watch for all Naruto fans. After the movie ended, attendees were each given a gift bag as they were leaving. The best item in the gift bag was the Naruto Shippuden: Ultimate Ninja Impact game for the PSP. The game was not even in stores yet, so the premiere fans was insanely happy about it.

The US theatrical premiere of NARUTO SHIPPUDEN THE MOVIE: BONDS was a great success. Everyone loved the movie and had a great time. Junko Takeuchi and the free gift bags made this an event to be remembered. Thanks to Viz Media for creating an unforgetable event like this dedicating it to all the Naruto fans!

Review written by Ben Li of AsiaFinest.com.



Naruto Shippuden Premiere Pictures || Naruto Shippuden Products

If you have any pictures from this event, please send it to us and we'll credit you for it. Talk about this event in our friendly discussion forum! Be sure to check out our other reviews. Write an Asian related article, and get it read by thousands of people daily. Get credit for it. Click here for more details on submitting an article to us.