New York Comic Con 2011 Review
---
Thursday, October 13th - Sunday, October 16th, 2011



New York Comic Con 2011 was a four-day entertainment event held in New York City's Jacob K. Javits Center. The NY Comic Con (NYCC) 2011 featured a host of special guests from Japan and the United State. There is a wide range of activities to choose from including a massive exhibit hall, panel discussions, screenings, art exhibitions, concert performances, cosplay, meet the guests receptions, and much more. The NY Anime Festival was part of the NYCC again this year. AsiaFinest was at the NYCC all four days to cover as much as possible. The New York Comic Con was bigger and better than ever! AsiaFinest took hundreds of pictures and videos of the NY Comic Con / Anime Festival 2011, so be sure to check them out.

Thursday October 13th: Preview Day

This day was reserved for Professional, Press, VIP, and 4 Days ticket holders only. It was a great way to preview the exhibits before the event kicks off the following day. It was a taste of all the exciting things to come. Is the extra day worth it for a 4 day pass? We definitely would recommend it. There was a few special autograph signing sessions with featured guests such as Bob Burdern of the comic "Mystery Man" and Robert Kirkman (creator of the popular comic and TV series, "The Walking Dead"). The line to all of the signings was relatively short compared to the next few days.

As a special bonus, there was a free concert later that evening headlined by DJ Z-Trip! Tom Morello kicked off the afterhour concert with a nice set of songs and introduced the audience to his new "Black Spartacus" guitar. Next came the crowd favorite, DJ Z-Trip. Z-Trip is considered to be one of the best live performance DJs in history, by both fans and peers. Fans voted him "America's Best DJ" in 2009, beating out over 100 other DJ's in DJ's Times highly acclaimed readers' poll. He played a special custom set list just for New York Comic Con. Remixing everything from Star Wars to Super Mario Bros. The audience loved every bit of it!

Friday October 14th: Day 1


We started the day in the early morning with a special invite from Viz Media to join their private panel where they announced WEEKLY SHONEN JUMP ALPHA. Each new digital issue of WEEKLY SJ ALPHA brings manga fans in North America the latest chapters of their favorite series only two weeks after it debuts in Japan's massively popular WEEKLY SHONEN JUMP Magazine. Currently, Japanese releases are often several months to years ahead of North American print titles; WEEKLY SJ ALPHA eliminates the delay in unprecedented fashion. The first issue of WEEKLY SJ ALPHA goes on sale January 30, 2012, and will be available through VIZManga.com.

Day 1 was filled with energy and excitement The comic con fans lined up early and was hyped and full of adrenaline. The opening day line was really long. The wait time for people who brought tickets online and had to pick them up was pretty lengthy, but way better than last year. That's one of the major improvement over the previous year. The previous NY Comic Con's overcrowding was one of the biggest complaints. This year the handling of the crowds was way better. The staff was better equipped to handle most of the crowds. Some of the staff held "End of the Line" sticks, so that people knew where the last person on line was. This helped a lot when it came to popular autograph session from comic artist such as Todd Mcfarlane.

There was so much to do on day 1. The preview from the day before allowed us to plan ahead. We headed over to check out the Kid Robot booth. Kid Robot was selling limited edition New York Comic Con exclusives such as a Glow in the Dark Blanka (Street Fighter 2) and Zombie Kenny (South Park) figures. The lines wasn't too long, probably due to a few other companies such as Capcom and Hasbro selling NYCC exclusives too.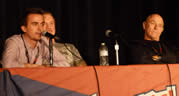 We checked out all the major booths. The first huge booth that you'll notice as you step into the convention area is the Black Eyed Peas Experience game booth. It was a huge stage where the attendees was able to get on stage and dance to all the popular songs from the Black Eyed Peas. Other major booths included Star Wars, Hasbro, Capcom, Marvel, and many more. There were giveaways, pictures with booth babes, and other entertaining interactive things to keep attendees interested at each booth. There was a small wait for each booth, but it was well worth it. Attendees got to play video games such as "The Darkness 2" and "Max Payne 3" months before it will comes out.

We covered a few of the panels today which include the popular show, "Robot Chicken", "Jay and Silent Bob Get Old", and the upcoming movie, "Pizza Man". We were given a preview trailer from the upcoming movie, and the cast of Pizza Man was nice enough to sign autographs and take pictures with fans at the end of the panel.

We interviewed Comic Con attendee, Alex Chan, from Brooklyn NY, on what his thoughts was for the event, and this is what he said: "This is my second time coming to the New York Comic Con. I am looking forward to the Marvel's Avengers panel this year. The exhibit hall is enormous! The crowd is great. I love interacting with fellow cosplayers. Everyone is so friendly. It's a great atmosphere."

Saturday October 15th: Day 2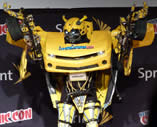 We knew based on our past experiences that Day 2 was going to be hectic. The most popular day out of the comic con. The cosplayers came out in full force today. Costume characters ranged from old school favorites "Ghostbusters" and "Sailor Moon" to the popular "Naruto" and "X-men", and even a gigantic transforming Bubblebee from Transformers! The major panels was also scheduled for today. Maggie Q was back for a Nikita panel. AMC's The Walking Dead was on hand with the cast from the hit TV show, as well as the creator of The Walking Dead comic, Robert Kirkman. The main event was Marvel's Avengers movie panel. The main complaint that we have heard during this year's comic con was that some fans had to wait hours, while a lot of fans weren't able to get in due to the people staying inside the theater from previous panels. We didn't get a chance to cover it due to a special invite to cover the US Theatrical Premiere Of Naruto Shippuden: Bonds, with a special appearance by Junko Takeuchi.

After rushing back from the Naruto's premiere at the School of Visual Arts Theater, we made it just in time for the final main event for the night, the New York Anime Festival Cosplay Masquerade Costume Contest. As always it was a fan favorite event that consisted of the top cosplay costumes from the NY Comic Con / Anime Festival. Prizes includes various sponsors' gifts and $1000 in prize money. A fun filled events with a lot of laughs provided by comedian host, Uncle Yo.

Sunday October 16th: Day 3

The final day of the the 2011 New York Comic Con. You can see the wear and tear from all the events affecting some of the attendees today. Even we were starting to feel tired from running around to all the different events and panels. Sunday was pretty much NYCC KIDS day. A great time to bring out the younger audience. A lot of events were geared towards the kids today including Wand Dueling for Kids, Kids Costume Contest, and the U.S. BeyBlade Metal Masters Championship.

The merchant area was less crowded today, so we decided it would be the best time to really check it out thoroughly. Since it was the last day, a few of the merchants had discounts on their products, so we couldn't help but to make a few purchases ourselves. By 5pm, everyone was tired from the long but fun filled weekend and was clearing out of the Javits Center. Most of the attendees were sad that the event was coming to a close, but still hung around the convention center area to take pictures and interact with fellow comic con fans.

Conclusion:
The New York Comic Con 2011 was definitely our favorite event to cover! We didn't think it was possible, but this year's NY Comic Con was indeed bigger and better. More visitors were able to enjoy this year's sold out event due to more space being utilized at the Jacob K. Javits Center. The bad side to that was that it resulted in a lot of panels being overfilled which disappointed many fans that were shut out. Most attendees felt that the anime festival was overshadowed by the comic con last year. To the delight of many anime fans, this year, the anime festival section had an entire top floor dedicated to it.

Overall the New York Comic Con is a wonderful experience for everybody, including people who are new to comics and anime alike. There is something for everyone. Most attendees would agree that it was worth every penny. We recommend that everyone get at least a 3 day pass. You will need all 3 days to truly experience everything. We feel that even the 4 day pass is well worth it with the addition of a kick off concert. Plus it gives you a chance to preview most of the event so that you can better plan out your time at the convention. We are definitely looking forward to next year's New York Comic Con 2012. The NYCC will be held at the same place, Jacob K. Javits Center, on October 11 - 14, 2012. We highly recommend that you order your ticket as soon as it becomes available as it will get sold out again! So be sure to mark it on your calendar and we'll hopefully see you there!



New York Comic Con 2011 Pictures || New York Comic Con 2011 Videos


If you have any pictures from this New York Comic Con / Anime Festival 2011, please send it to us and we'll credit you for it. Talk about this event in our friendly discussion forum! Be sure to check out our other reviews. Write an Asian related article, and get it read by thousands of people daily. Get credit for it. Click here for more details on submitting an article to us.