New York Comic Con 2012 Review
---
Thursday, October 11th - Sunday, October 14th, 2012



New York Comic Con 2012 was a four-day entertainment event held in New York City's Jacob K. Javits Center. The event is so popular that it was sold out a month in advance. The NY Comic Con (NYCC) 2012 featured a host of special guests from all forms of pop culture. There is a wide range of activities to choose from including a massive exhibit hall, panel discussions, screenings, art exhibitions, concert performances, cosplay, meet the guests receptions, and much more. AsiaFinest was at the NYCC all four days to cover as much as possible. The New York Comic Con was bigger and better than ever! AsiaFinest took hundreds of pictures and videos of the NY Comic Con 2012, so be sure to check them out.

Thursday October 11th: Preview Day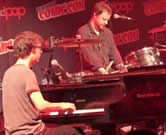 This day was reserved for Professional, Press, VIP, and 4 Days ticket holders only. It was a great way to preview the exhibits before the event kicks off the following day. It was a taste of all the exciting things to come. Is the extra day worth it for a 4 day pass? We definitely would recommend it. You get interact with exhibits such as Sega's Aliens: Colonial Marines where you get to climb into a very impressive custom-made 16-foot powerloader with an attacking Alien Xenomorph to have your picture taken. There was a line, but it was a lot shorter compared to the next few days. There was also a few special panels such as Street Fighter 25th Anniversary Celebration and a Marvel Super Hero Happy Giveaway Hour.

As a special bonus, there was a free concert later that evening by Ben Folds Five! The group made a stop at NYCC as part of their reunion tour. Attendees got to enjoy some of the new songs from Ben Folds Five as well as some of their older hits. Songs performed includes "Kate", "Brick", and "Do It Anyway". The fan were singing along to Ben Folds Five earlier hits. The concert was a hit for Ben Folds Five fans and non-fans alike. For their encore Ben Fold Five performed "Underground".

Friday October 12th: Day 1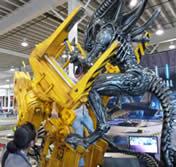 Day 1 was filled with energy and excitement. The comic con fans lined up early and was hyped and full of adrenaline. The preview from the day before allowed us to plan ahead. We headed over to check out the Capcom booth for their daily signings. For the first time at New York Comic Con, Capcom had signings everyday of the event. They brought in people such as Stanley Lau (Darkstalkers's Illustrations and Artwork), Alex Jones (Producers of Devil May Cry), and Yoshinori Ono (Producer of Street Fighter). Fans were given free game posters for the special guests to sign. Yoshinori Ono even came dressed as Chun Li for his signing, plus allowed fans to take pictures with him!

One of the popular trends nowadays are products being sold exclusively at comic cons. Not only are the products not sold outside of New York Comic Con, most of the products are limited to a certain number to make it even more rare! The most popular exclusives were Marvel and DC Comics having exclusive NYCC comic books and figures. DC Comics were selling rare exclusives NYCC comic covers for their Superman and Batman comic series. DC Comics were also offering the exclusive Aardman Batman and John Stewart & Atrocitus figures. Fans had to line up early to get wristband to purchase these exclusive products. Kid Robot were selling an exclusive Agent K Dunny figure limited to 2000.

We also checked out all the major booths and exhibits today as we know it would get even more crowded tomorrow. Major exhibits included a Teenage Mutant Ninja Turtles themed walkaway tunnel that connected one section of the Javits Centers to the next. Other major booths includes Hasbro, Mega Blox, Marvel, and more. There were giveaways, tons of comic artists signing, and other entertaining interactive things to keep attendees interested at each booth. There was a small wait for each booth, but it was well worth it. Attendees got to play video games such as the new "Devil May Cry" and "Age of Wushu" months before it will comes out.

We covered a few of the panels today which include the popular show, "Robot Chicken", "Archie Comics", and a few other comic publishers panels". Most of the panels gave attendees a preview / tease / and showcased their future projects. Some of the panels such as Archies gave out goodie bags filled with an assortment of their current comics.

We interviewed Comic Con attendee, Brian Clarke, from Queens NY, on what his thoughts was for the event, and this is what he said: "I'm having so much fun. This is the first time I'm here. I can't believe how big it is. I got the 3 days pass so I will be here from open till closing everyday. I wish I came the previous years!"

Saturday October 13th: Day 2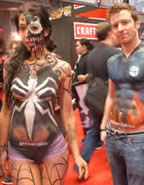 We knew based on our past experiences with NYCC that Day 2 was going to be hectic. It didn't help that there was construction going on at Jacob Javit Center which caused a huge bottleneck of people waiting to get in at the entrance. Saturday was the most popular day out of the comic con. The cosplayers came out in full force today. Costume characters ranged from old school favorites "Spider-man" and "Mortal Kombat" to the popular TV show "Game of Thrones" and "One Piece", and just like last years comic con, a gigantic transforming Bubblebee from Transformers! There was a ton of comic book signings today. Both Marvel Comics and DC Comics had hourly signings featuring some of the most well known artists in the comic industry. Signings for popular artists such as Scott Synder, Jim Lee, and others was over an one hour long wait.

The major panels was also scheduled for today. The main event AMC's The Walking Dead was back at the NYCC with the cast from the hit TV show, as well as the creator of The Walking Dead comic, Robert Kirkman. Other popular panels included Evil Dead & Carrie, Firefly 10th Anniversary Special Event, and Haven. The main complaint that we have heard again this year was that the fans had to wait hours to get into these panels, while a lot of fans weren't able to get in due to the people staying inside the theater from previous panels. Just like last year when we had a special invite to cover the US Theatrical Premiere Of Naruto Shippuden: Bonds, this year we had an invite to the NY Wine & Food Festival during the same weekend, so we weren't able to cover a lot of the panels.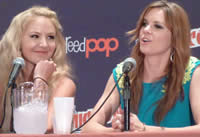 After rushing back from the NY Wine & Food Festival,, we made it just in time for the Femme Fatales panel. The beautiful and friendly cast from the Femme Fatales TV series was on hand to promote the series's DVD. Giveaways was given during the panel as well as a quick autograph session for the fans after the panel ended. In the previous years on Saturday at night, we would look forward to the New York Anime Festival Cosplay Masquerade Costume Contest. Unfortunately New York Comic Con announced that the NY Anime Festival will no longer exist this year. After NY Anime Festival was merged in NY Comic Con in 2010, NYCC always had a huge Cosplay Masquerade Costume Contest, but sadly not this year. A lot of comic con attendees looked forward to this event but was extremely disappointed to find out it wasn't on the program schedule. Instead they found out NYCC had three daily costume contests held at the much smaller Variant Stage at Hall 1B.

Sunday October 14th: Day 3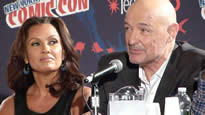 The final day of the the 2012 New York Comic Con. People who brought 3 days and 4 days passes were starting to look like The Walking Dead's zombies today. Everyone was tired and worn out from all the fun and excitement from the previous days at NYCC. Even we were starting to feel lethagic from running around to all the different events and panels. The main panels that we covered today were Arrow and 666 Park Ave. Both panels featured the stars from each TV series and a Q&A with fans.

As always Sunday was NYCC KIDS day. A great time to bring out the younger audience. A lot of events were geared towards the kids today including Wand Dueling for Kids, Kids Costume Contest, Drawing DC: Kids Edition, and Disney XD Screening.

The merchant area was less crowded today, so we decided that it would be the best time to really check it out thoroughly. Since it was the last day, a few of the merchants had discounts on their products, so we couldn't help but to make a few purchases ourselves. A note to our readers, if you see a product that you like during the previous days, then be sure to buy it on the spot. We noticed that a lot of the products were sold out by today. When 5pm came, everyone was tired from the long but fun filled weekend and was clearing out of the Javits Center. You could feel that the attendees were sad that the event was coming to a close. Everyone hung around the convention center area to take pictures and interact with fellow comic con fans.

Conclusion:
New York Comic Con is always our favorite event of the year to cover! We didn't think it was possible, but each year NY Comic Con gets even more bigger and better than the previous years. More visitors were able to enjoy this year's sold out event due to more space being utilized at the Jacob K. Javits Center. The bad side to that was that it resulted in a lot of panels being overfilled which disappointed many of the fans that were shut out. Due to constructions to the outside of Jacob Javits Center, it was a bit hectic each day getting into the convention area.

Overall the New York Comic Con is a wonderful experience for everybody. It's not just for anime, comic, and sci-fi fans. There is something for everyone here. All genre of pop-culture entertainments are on display here. We highly recommend that everyone get at least a 3 day pass. You will need all 3 days to truly experience everything. We feel that even the 4 day pass is well worth it with the addition of a kick off concert. Plus it gives you a chance to preview most of the event so that you can better plan out your time at the convention. We are definitely looking forward to next year's New York Comic Con 2013. The NYCC will be held at the same place, Jacob K. Javits Center, on October 10 - 13, 2013. We highly recommend that you order your ticket as soon as it becomes available as it will get sold out again! So be sure to mark it on your calendar and we'll hopefully see you there!


New York Comic Con 2012 Pictures || New York Comic Con 2012 Videos


If you have any pictures from this New York Comic Con 2012, please send it to us and we'll credit you for it. Talk about this event in our friendly discussion forum! Be sure to check out our other reviews. Write an Asian related article, and get it read by thousands of people daily. Get credit for it. Click here for more details on submitting an article to us.